Cooperation
son-x GmbH places a lot of value on long term cooperation
with strategic partners from industry and the field of research.
---
---
son-x is member of Spectaris, the German Hightech Industry Association
with focus on optics and photonics.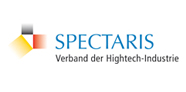 ---
Back to top
Die Cookie-Einstellungen auf dieser Website sind auf "Cookies zulassen" eingestellt, um das beste Surferlebnis zu ermöglichen. Wenn du diese Website ohne Änderung der Cookie-Einstellungen verwendest oder auf "Akzeptieren" klickst, erklärst du sich damit einverstanden.